Cleanto – Online Bookings for Cleaning Businesses | Prosyscom Tech
LIVE PREVIEWBUY FOR $49
Best appointment booking Software for Cleaning business
Cleanto is very powerful, flexible and advanced appointment booking system which can be used by multiple type of businesses. Its most fit for all type of cleaning businesses, janitorial, handyman services,domestic services, laundry services, carpet, windows cleaning, maid services, plumbing services, grave care service and all type of maintenance & repair service provider companies to get bookings online without any hassles. its an automated online booking tool for businesses having lots of features. its fully responsive and easy to use.
Cleanto can be used in multiple ways, You can create your own price calculation methods, it has cool features like dynamic pricing, addons services,one page booking, control over appearance, easy schedule setup,guest user checkout, partial deposit, pdf invoice, csv reports export, coupon discount and many more that makes your booking system like a charm for you and your clients.Payment can be collected through Paypal express checkout, Authorized.net,Stripe,2Checkout,PayUmoney easily.
If you have any questions, just ask us at: support@skymoonlabs.com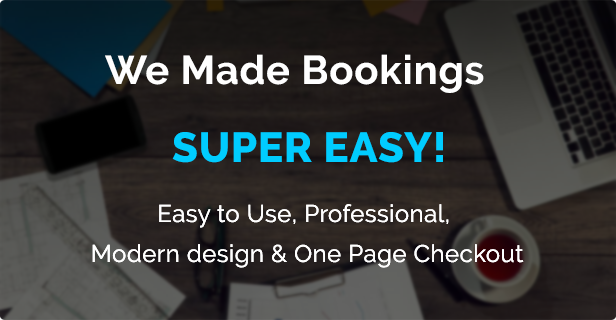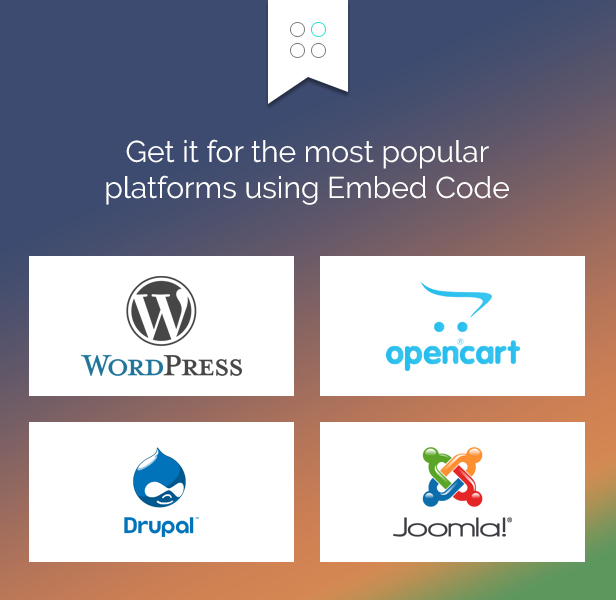 Live Demo (frontend)
URL: http://skymoonlabs.com/cleanto/demo/
Live Demo (admin)
URL: http://skymoonlabs.com/cleanto/demo/admin/
Login Email: demo@demo.com
Login Password: demo123
Cleanto – Main Features

Accept Online Payments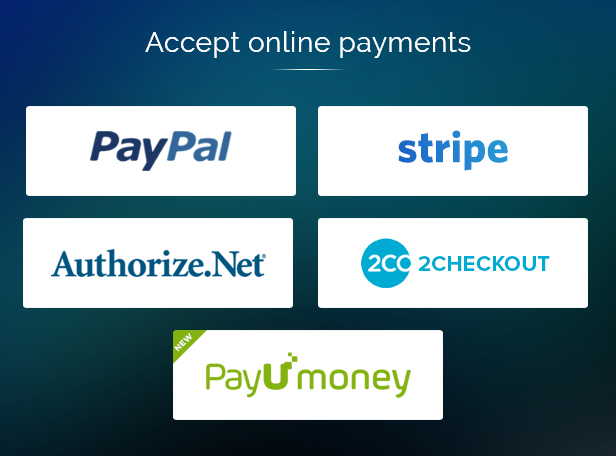 SMS Alerts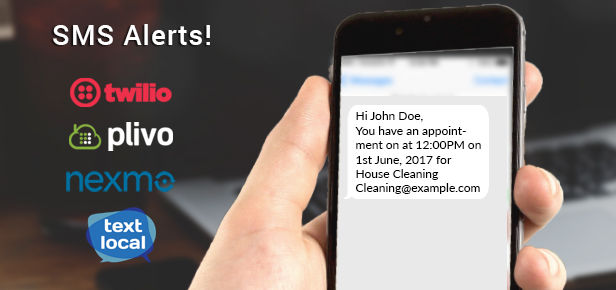 Of-course Responsive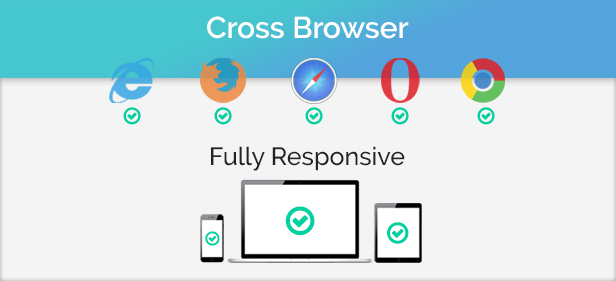 How front page works
Video Tutorials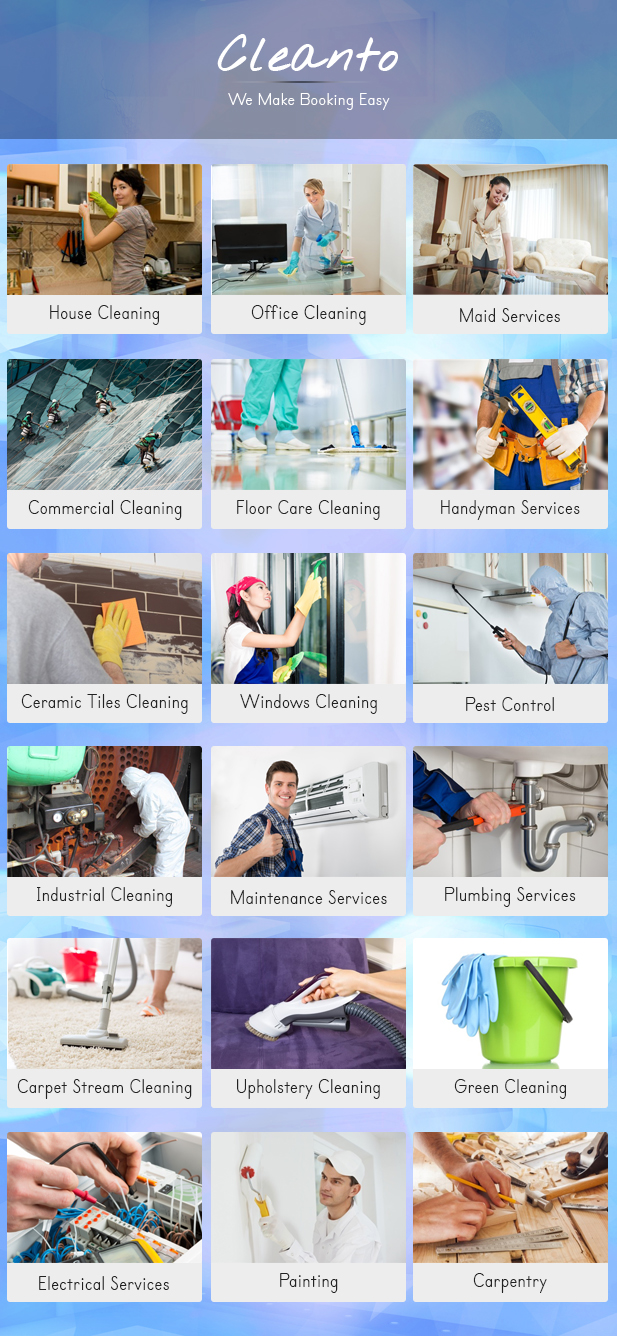 Frontend Client View

Cleanto Features
Fully Responsive
Paypal / Authorize.Net / Stripe / 2Checkout / PayUmoney Payment Methods / Bank Transfer
Appearance Control
Dynamic Price Calculation Methods
Add-ons Services
Recurring Booking
Manual Booking
SEO meta tags
Manageable default view(month/week/day) in appointments calendar
Manageable First Day(Sunday/Monday) in appointments & frontend calendar
Staff dashboard
Dynamic loader
Option to choose staff on booking form option
Compatible with Strict Mode
Manageable Frontend Fonts
Manageable Form Fields
Coupon discount
Recurring discounts
Tax/ Vat / GST
Nice PDF Invoice
Email Reminders
SMS Reminders using Twilio / Plivo / Nexmo / Textlocal APIs
Partial Amount Deposit
Methods and Units design templates
Multi-currency supported
Multi-language supported
One page Checkout
Easy and smooth Admin panel
Custom Css for front
Registered and Guest User Checkout
Auto Confirm Appointments
Monthly and Weekly Schedule
Add Breaks in schedule
Off time for specific date & time range
Off days for full day off
Registered and Guest Customers listing with there booking Details
Payment details
Export Booking information, Customer information and services information
Embed code on your website for front page
Sample data add/remove
Manageable Cancellation Policy
How it works
After a simple installation website owner can start add services which will be provided to customers upon booking request.Some Configuration of scheduling is needed before starting to get appointments. Administrator of website can login to admin panel and have to add schedule and can use breaks and off days. Service price calculation methods and units should be created, like you can create price calculation method as by Area and units may be Feet. Admin can setup payment method to get payment online and create embed code to use this on any page of website, your website can be built with any CMS or Framework like WordPress,Opencart,Joomla, Drupal, WordPress etc. on all type of website built on PHP, its embed code will work fine.
It gives an easy option to setup sample data to check its capabilities, admin can setup auto confirm booking or manual booking confirmation as well. Website owner can set their own timezone and client can see all slots accordingly.
It provide very easy way of communication between service provider and customers by using e-mail notifications, due to its multi currency and multi language option website owners can set their own currency and language to make the booking easy for their clients.
Front page of this tool is very easy to understand for Customers and website owners can set its appearance easily from admin section. Its appointment calendar is very nice and easy to use for site owners. After sale of our products we are available for support and updates. Thanks.
Tags: Maid appointments, cleaning company appointment software, Online Scheduling App for Cleaning Business, Best Maid Service Software, Cleaning Business Software,Appointment Scheduling Software,Cleaning Company Business & Scheduling system, уборка бизнес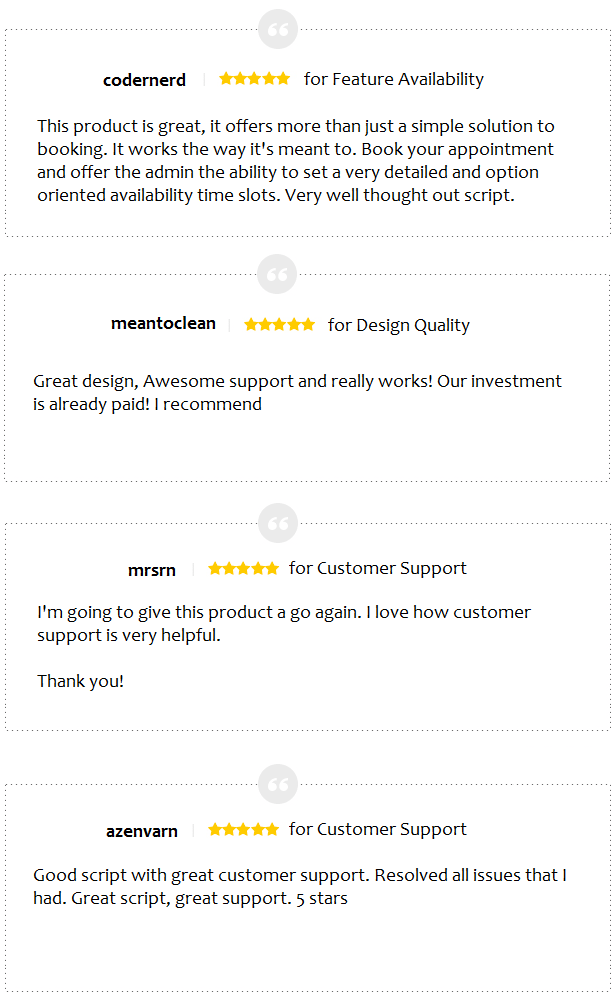 Cleanto Change log
Version 3.2
  
    Extensions Feature added
    Google Calendar as free Extension added
    Admin section design improved
    Staff commission section improved 
    Cyrillic characters issue in invoice fixed
    Manual Booking issue fixed
    Undefined staff id issue in all payment gateway fixed
    Calendar off day issue for next year fixed
 
Version 3.1

    Staff dashboard login issue Fixed
    Embed Code Iframe Scrolling Issue fixed

Version 3.0
Manual Booking feature: Added
Auto Update feature: Added
Manage default view(month/week/day) in appointments calendar: Added
Manage First Day(Sunday/Monday) in appointments & frontend calendar: Added
Appointment cancellation reason in appointment cancel by client: Added
Frontend Right side cart scrollable issue: Fixed
Frontend Design issues: Fixed
Admin Design issues: Fixed
Wrong Book Appointment link in my appointments page: Fixed
Responsive issue of recurrence booking dropdowns in frontend booking form: Fixed
Frontend language labels issue: Fixed
Schedule not save properly issue: Fixed

Version 2.8
Manageable company title for frontend: Added
Dynamic loader feature: Improved
Staff and admin login conflict issue: Fixed
Email validation in email settings: Fixed
Phone number issue in frontend: Fixed
Staff issue for already booked slot in frontend calendar if there is no staff: Fixed

Version 2.7
Recurrence with End Date: Added
SEO meta tags/GA: Added
Multi languages with country flag listing in front booking page: Added
Labels section design in settings: Improved
Scroll issue in iframe: Fixed

Version 2.6
Front and Admin design Improved
Blank image issue without selection crop Fixed

Version 2.5
Remove Item from the booking page cart functionality: Added
Meta Title added for the booking page: Added
Admin email manageable: Added
PHP mailer library newer version: Added
Admin password complexity: Improved
Font family include issue for SSL enabled sites: Fixed
Booking form background image update issue: Fixed
Sample data bookings on calendar issue: Fixed
Language Label issue: Fixed
Add new staff was not working in strict mode issue: Fixed

Version 2.4
Separate staff dashboard section to manage bookings, schedule, payments and profile for staff - Added
Option to choose staff on booking form option  - Added
Recurrence booking (daily, weekly, biweekly, monthly) feature - Added 
Option to manage gif loader -  Added 
Option to reset colours to default settings -  Added 
Popover issue in delete services - Fixed

Version 2.3
Strict mode issue fixed.
Version 2.2

Appointment details fields show/hide added.
Gmail SMTP settings issue fixed.
Edit email templates functionality improved.
Multi language dropdown on booking form improved.
Installer path settings improved.


Version 2.1

Label issue fixed
Startup configuration improved

Version 2.0

New staff in business is added
Option to change the google fonts for front page is added
Methods,Units and addons are sortable now
Language selection dropdown in front page is added
Made all form fields manageable
Assign an appointment to staff feature added
Payment details of the staff is added
Postal code placeholder is added
Option to upload favicon is added
Booking Calendar Js effect is added on date selection
Email templates are improved
Users table data structure is improved

Version 1.6

PayUmoney payment gateway added
Textlocal SMS gateway added
Payment method bank transfer added
Service description made manageable 
Form Field 'How we will get in' made manageable
country code with flag made manageable 
Booking Notification design issue fixed
Iframe full height scroll fixed
Internet Explorer 11 browser design issue fixed
Authorize.net payment gateway issue fixed

Version 1.5

Nexmo sms gateway added
Company logo manageable from admin
Installer Script added
New Labels added
Option to delete registered customers added
Company address for booking page visible/hide option added
Zip code dynamic for booking page visible/hide option added
Login and Booking page background manageable added
Existing and new user booking enable disabled from settings
Tooltip added for description in booking page
Tooltip for calendar display available slots
Company logo visible/hide option added
Reset button functionality fixed while adding addons
Prevent booking without login fixed
Frequently discount issue fixed
Update and insert conflication get solved in promocode
PDF invoice for displaying long text fixed
Country code uneditable manually fixed
Display of tax/vat in payment listing fixed
Working of save monthly schedule type fixed
Display of add break tab in schedule tab fixed
Off times in front panel in calendar time slots fixed
Display of expiry date while adding coupon fixed
Notifications count issue on dashboard fixed
Embed Code white space issue fixed
Language translatable issue fixed
Specific mobile view design issue fixed

Version 1.4

2checkout payment method added
Postal Code Enable/Disable option added
Wild card postal Code or zip code option added
Upload image errors fixed
Start time should be smaller than end time issue fixed
Units and addons duplicate names conflict fixed
While adding addons, multiple Quantity option fixed 
Notification popup issue fixed
Stripe user email information issue fixed
Overbooking issue on already booked slots is fixed
Js issue fixed while addon Multiple Quantity in Addons
Booking time in email template issue fixed
PDF Invoice empty method issue fixed
Postal code validation improved
Service page labels improved
Data table download reports improved
Loading image added for payment option pages
Notifications design Improved
Display message on adding and deleting offdays
Display transaction id in payment listing for pay at venue option
Displayed AM/PM in capitals
Enabled frontend design option even with single unit

Version 1.3

Stripe payment method added
RTL Support added
Manageable SMS templates added
Twilio SMS gateway added
Plivo SMS gateway added
Manageable Email templates added
Admin menu design improved
Email Template design Improved
Dynamic timezone while configure
Whats new section added
Manage vacuum & parking status according to settings
Default country code in profile fixed
Forget password for admin and client email notification fixed
Cancellation policy in frontend sync with admin setting fixed
Notification booking status displaying fixed

Version 1.2

Language settings issue fixed 
PDF Invoice labels issue fixed 
Calendar date selection issue fixed 
All placeholders made translatable

Version 1.1

Multi language feature added
Authorize.Net Payment Gateway added
New default image option in add-ons services added
Remember me password feature is added
Custom css feature added default country code option from admin added
Default flag selected in user registration added
Service add-on add new pricing rule improved
Sample data functionality improved
Admin profile validation improved
Validation error messages improved
User details display improved
Discount calculations issue fixed
Add-ons selection issue fixed
Date issue fixed in calendar
Availability time slots issue fixed

Version 1.0
 Initial release

Cleanto updates periodically with new features and bug fixing,You can find change log here : Change Log
Tags : how to take online ordering system for business | Scheduling Software | Maid Software | Service Booking | Best Maid Service plugin | Residential Clean Scheduling Software | Online Scheduling App | Cleaning Business System| Service Booking Script | online booking software Domestic & Commercial clean | WordPress Plugin | carpet cleaning | Dubai UAE | janitorial services business
Source