Institutional Top Ideas Series: Biotechnology Value Fund – Tech News| Tech News
In the last entry of this series, we took a look at top ideas from Perceptive Advisors, a hedge fund with a highly enviable track record characterized by impressive consistency and high returns.
Going forward, I hope to continue to delve into the portfolios of successful hedge funds predominantly in the biotech sector, trying to place ourselves in the mindset of the managers and analysts. We do so humbly, knowing that we don't have access to their research or thought processes (and keeping in mind that positions are constantly changing) – nevertheless, it is an interesting exercise that I hope readers find useful.
Today's Fund: Biotechnology Value Fund
Founded: 1993
Manager: Mark Lampert
Strategy: Long, value-oriented, medium-term time frame
Relevant Reading Material: N/A
Market Value: $986.483 million
Top 10 Holdings %: 59.81%
Turnover %: 37.21%
Time Held Top 20 holdings: 6 quarters
Performance 6/16- 4/18: 149.80%




Figure 1: Performance compared to S&P Total Return Index (source: Whale Wisdom)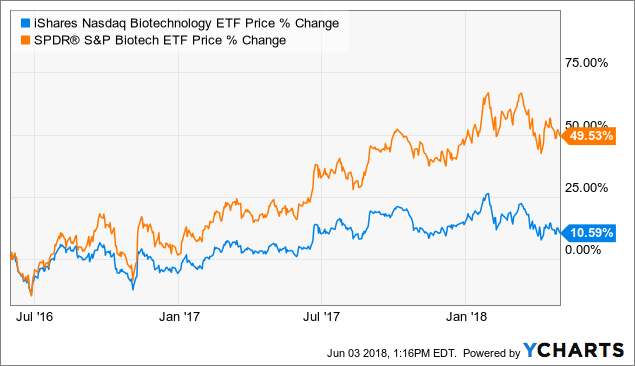 Top 5 Weighted Biotech Positions:
#1: Chemocentryx (CCXI) @ 9.92% of portfolio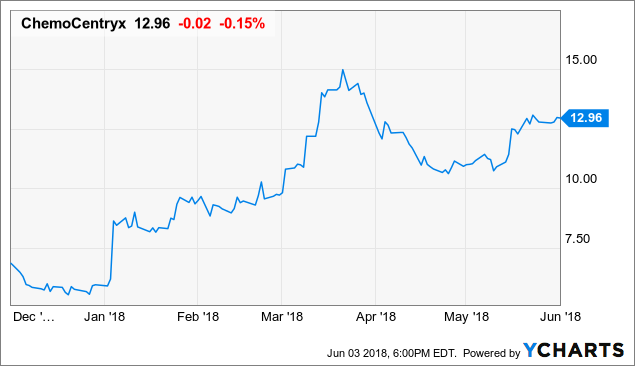 Possible 1 Sentence Thesis: C5aR inhibitor avacopan appears to be the principal value driver here with the phase 3 trial in ANCA-associated vasculitis scheduled to read out in mid-2019 and data from two mid-stage studies providing substantial derisking. Additional trials in other indications could add to the already significant market potential for the drug candidate, they have a solid cash position and their pipeline adds significant optionality.
Opinion: A few weeks ago I took a look at the potential of InflaRx´ C5a antibody IFX-1 in patients with moderate to severe Hidradenitis Suppurativa (ROTY members can get past the 10 day paywall). Their valuation is higher than Chemocentryx with a similar asset, keeping in mind that Chemocentryx is also planning a study in hidradenitis suppurativa as well. Several readers have messaged me stating that this stock deserves consideration and so far I agree it´s an interesting story.
#2: Ironwood Pharmaceuticals (IRWD) @ 8.66% of portfolio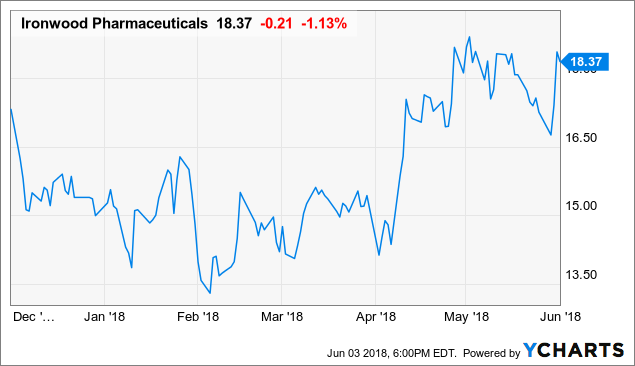 Possible 1 Sentence Thesis: Recently announced strategic plans appear to have noble intentions to create shareholder value, earnings would no longer be weighed down by R&D costs, Linzess has blockbuster potential and they have an interesting pipeline with mid-to-late stage assets set to create value.
Opinion: At the beginning of May the company announced plans to separate into two independent publicly traded companies (soluble guanylate cyclase R&D and commercial/GI business), but it still remains to be seen the exact details of such an action (including Sarissa Capital´s relevant question about cross-ownership). I do agree that accelerating growth observable in ¨the new Ironwood¨ will likely lead to outperformance.
#3: Array Biopharma (ARRY) @ 8.37% of portfolio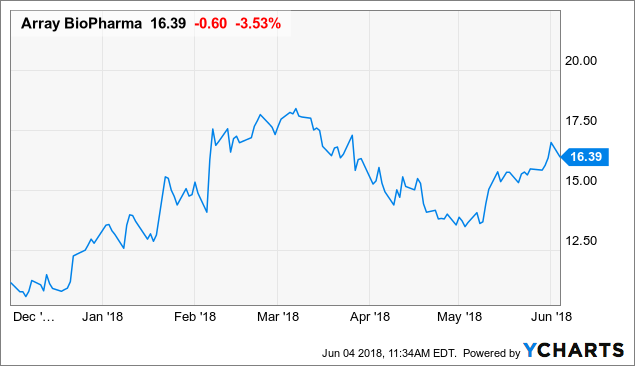 Possible 1 Sentence Thesis: Updated results for binimetinib/encorafenib in BRAF positive colorectal cancer and melanoma exceeded expectations using the gold standard of overall survival. The stock is very attractive as an M&A target, and data to date provides a cushion to the current valuation considering large market opportunities being targeted.
Opinion: The above thesis comes from the Core Biotech series where the stock is one of 20 appearing in the model account (multi-year time frame). While the stock has doubled since my original write-up, COLOMBUS data at ASCO, their coming PDUFA date and updated BEACON CRC data in late June provide three near term catalysts for continued upside.
#4: Blueprint Medicines (BPMC) @ 6.09% of portfolio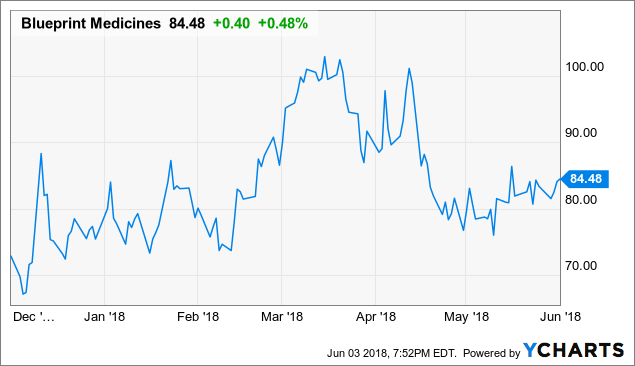 Possible 1 Sentence Thesis: They have a strong cash position following their December secondary and an attractive pipeline led by BLU-285 and BLU-667 with impressive efficacy demonstrated to date (makes for a compelling M&A candidate as well)- after the recent dip, the stock is again becoming an attractive purchase.
Opinion: Back at $26 and shortly after IPO, this was one of my favorite plays in the targeted oncology arena, a theme that has been very profitable for us. Management continues to execute and several data presentations throughout the year should drive additional upside. Updated data from the NAVIGATOR trial in the second half of the year is another catalyst to look forward to. I should also point out this is a holding in our Core Biotech 20 stock model account (multi-year time frame). The stock also accounts for a 15% weighting in Opaleye Management´s portfolio.
#5: Arqule (ARQL) @ 4.79% of portfolio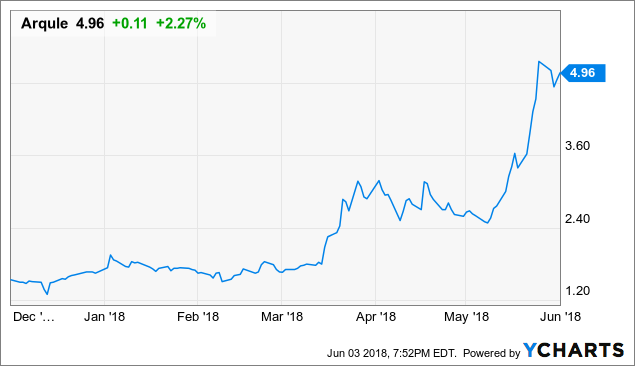 Possible 1 Sentence Thesis: Data at AACR for BTK inhibitor ARQ531 was encouraging (didn´t hurt that competitor Sunesis Pharmaceuticals experienced some setbacks), they were able to outlicense FGFR inhibitor derazantinib to Swiss biotech Basilea Pharmaceutica International for decent terms and rare disease asset miransertib has significant potential plus was granted rare pediatric disease designation (could lead to a priority voucher later on that they could sell).
Opinion: The stock has been nearly a five-bagger since recommending it to readers near the end of last year and I´m glad quite a few did well in it. We sold it way too early in the ROTY 10 stock model account (the continued theme that I need to work on my patience). This continues to be a promising story where the thesis is working out beautifully.
Commentary on Top Weighted Positions: BVF is definitely one of the lowest turnover funds we´ve analyzed, as it appears that management does the due diligence to find under-the-radar stocks with significant derisking and coming catalysts, patiently holding on (or adding) assuming the thesis is playing out as planned. Coupled with the high recent returns, I recommend readers keep tabs on this one.
3 New Positions of Note:
Xencor (XNCR) @ 2.74% of portfolio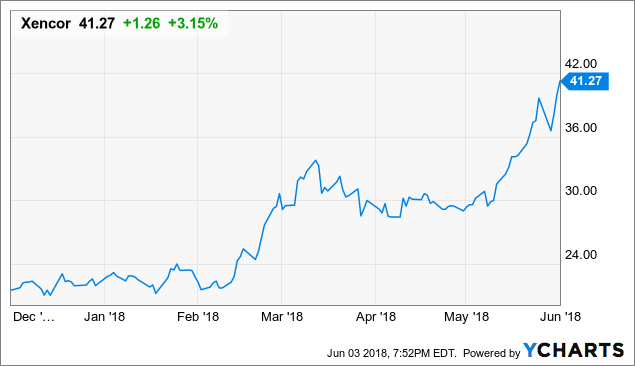 Possible 1 Sentence Thesis: The firm's antibody platform is quite attractive, they possess a deep pipeline, recently pulled off an upsized financing and received much needed validation in the form of positive data for Alexion Pharmaceuticals' (ALXN) ALXN1210 (makes use of Xencor's Xtend technology to extend half-life and reduce frequency of dosing). Downside appears limited after the secondary and validation of their technology, while advancement of their pipeline (IgG4-RD phase 3 trial initiation, data from phase 2 study in SLE and phase 1 study in AML) should keep Wall Street interested.
Opinion: The above thesis comes from our Core Biotech series, where the stock is one of the lead gainers in the 20 stock model account. I continue to like the story and their deep pipeline of wholly-owned and partnered programs.
Aduro Biotech (ADRO) @ 0.76% of portfolio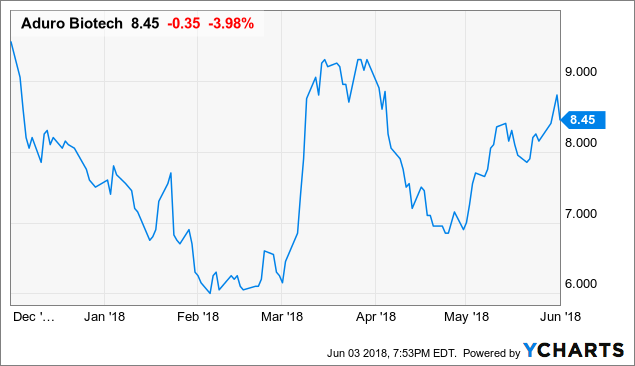 Possible 1 Sentence Thesis: Their various technology platforms are being explored in several oncology indications, STING pathway activator ADU-S100 is of particular interest (especially the phase 1b combination study with anti-PD1), they have a strong cash position of over $300 million and early observations from a case study of their neoantigen-based pLADD immunotherapy in metastatic colorectal cancer were intriguing.
Opinion: While the stock has fallen some since my original article from last year, I continue to believe there´s significant potential in targeting the STING pathway and look forward to early data. As I prefer to be late to the story until we have a de-risking element of some kind, I look forward to reevaluating this one after initial results for ADU-S100. I also note that Novartis owns a stake in the company and is on the hook for around $500 million in potential milestone payments.
Merus NV (MRUS) @ 4.54% of portfolio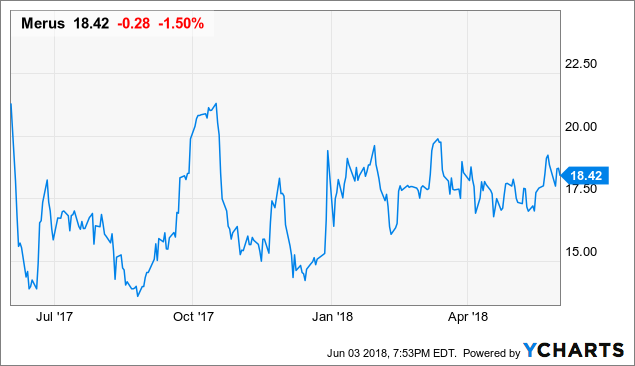 Possible 1 Sentence Thesis: Institutional investors placed a vote of confidence via successful financing and mid-year interim data for MCLA-117 in AML appears to be the big driver as target CLEC12A is expressed by tumor cells of 90% to 95% of patients with AML and 85% of those with MDS. Results for MCLA-128 in several cohorts is coming as well and the drug candidate has the potential to overcome inherent and acquired resistance of tumor cells to HER2-targeted therapies.
Opinion: I suggest checking out additional research on the name inside the ROTY service. This Dutch biotech has a couple readouts of interest due this year and a solid cash position, so I suggest readers keep an eye on this one and dig deeper.
3 Noteworthy Positions To Which They Are Adding:
Corvus Pharmaceuticals (CRVS) @ 2.28% of portfolio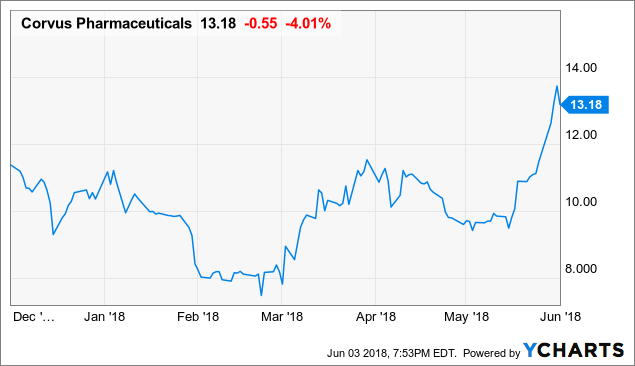 Possible 1 Sentence Thesis: Their balance sheet has been shored up after the March secondary, lead drug candidate CPI-444 (antagonist of the A2A receptor for adenosine) has shown interesting data in renal cell cancer and non-small cell lung cancer and data from phase 2 cohorts for CD73 antibody CPI-006 is of special interest considering its potentially differentiated profile from competitor programs.
Opinion: It´s worth pointing out that Orbimed Advisors owns around 20% of the company. While I´ll probably be late to the party on this one, I still prefer to see more data first. Readers who dig further, like what they see and are more aggressive might want to grab some shares before data.
Immune Design Corp (IMDZ) @ 1.37% of portfolio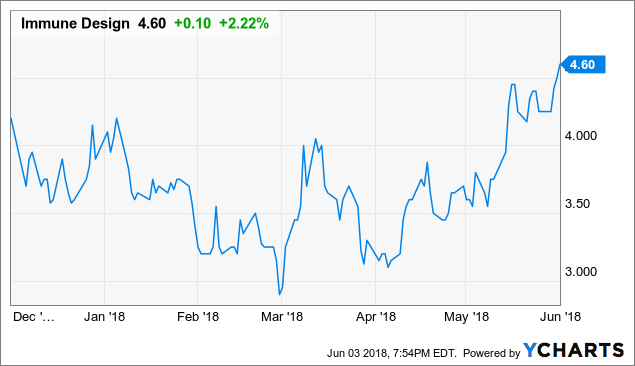 Possible 1 Sentence Thesis: Updated data from two studies evaluating lead candidates CMB305 and G100 in NY-ESO-1+ soft tissue patients was very encouraging (median overall survival significantly exceeding standard of care), updated results in follicular non-Hodgkin's lymphomas were also promising (impressive response rates) and management is guiding for an operational runway into mid-2020.
Opinion: I know one of my weaknesses is prior bias, but I still thought their secondary offering last fall was the result of incompetence and poor timing. That said, institutional clustering here (EcoR1 Capital also has a large position) is a green flag, updated data later in the year should drive upside and their phase 3 study should get underway shortly.
Pieris Pharmaceuticals (PIRS) @ 2.48% of portfolio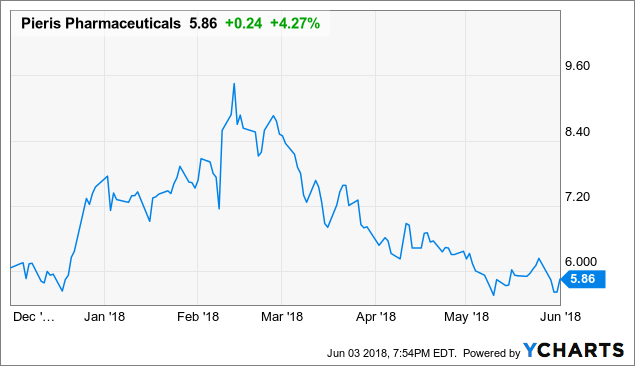 Possible 1 Sentence Thesis: With a market capitalization of just over $300 million, half that amount in cash and several validating partnerships (Seattle Genetics, AstraZeneca, Servier, ASKA Pharmaceutical, Roche, Sanofi) that could lead to $4.5 billion or more in milestone payments, the stock has significant upside. Keep in mind data for all three lead assets is expected in the second half of the year (thesis borrowed from ROTY´s Idea Lab- I suggest reading prior commentary in Live Chat as well using the search feature).
Opinion: I´ve written a couple articles on this one and was impressed with shrewd negotiation on the part of management, topped off by the latest deal with Seattle Genetics. The last time I looked the firm stood to receive a staggering potential $4.5 billion in milestone payments compared to a market capitalization of around $200 million. The story is all about data readouts in the medium term and now that the stock has pulled back significantly I believe it merits a closer look.
Bonus Section: Five 13G/13D Filings Of Note
With many of these bigger biotech funds, it's especially important to look into their recent 13G/13D filings (required when they buy up more than 5% of a company's shares).
For example, Baker Brothers' holdings in Idera Pharmaceuticals (IDRA) makes up less than 1% of their portfolio – however, it accounts for 18% of the company's shares and thus is quite significant.
#1 Erytech Pharma (ERYP) – owns over 5% (SEC Filing)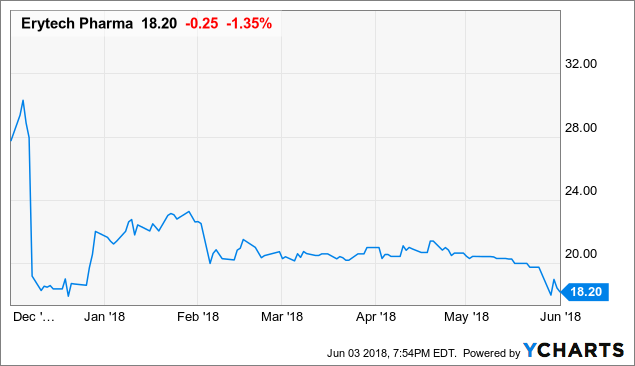 Thoughts: Their failed study in AML appears to be a minor setback and the company has strong IP protection- it's also a net positive that management has been planning ahead with ownership of a cGMP production facility in France that should allow for the first two years marketing of lead product GRASPA in ALL (Acute Lymphoblastic Leukemia) in Europe. I like the additional upside that's possible with the pancreatic cancer indication, where phase 2 data showed significant extension of overall survival and median progression free survival along with raising the disease control rate. While far from a sure thing, this one appears to have favorable prospects. I believe Baker Brothers owns over 25% of the company.
#2 Forward Pharma (FWP) – owns over 19% (SEC Filing)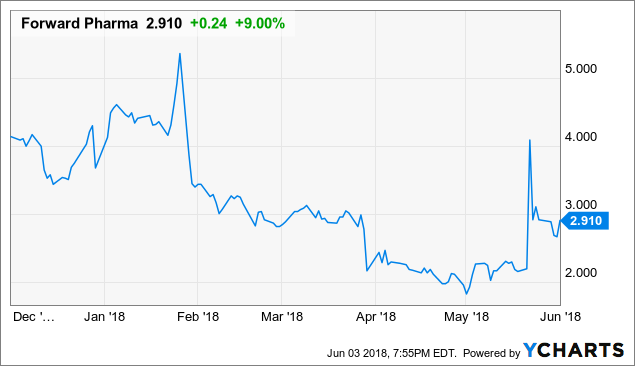 Thoughts: The Baupost Group owns a stake in this one as well (Seth Klarman is well-known for his value-based philosophy). If the company´s arguments hold up after appeals to the Federal Circuit in the Interference Hearings and if they prevail in ex-US proceedings (a big if), they will be due significant royalties on Tecfidera net sales (did over $4 billion in 2017). As the decision is expected to take place in the third or fourth quarter, investors won´t have to wait so long to see whether this one works out.
#3 Syndax Pharmaceuticals (SNDX) – owns around 6% (SEC Filing)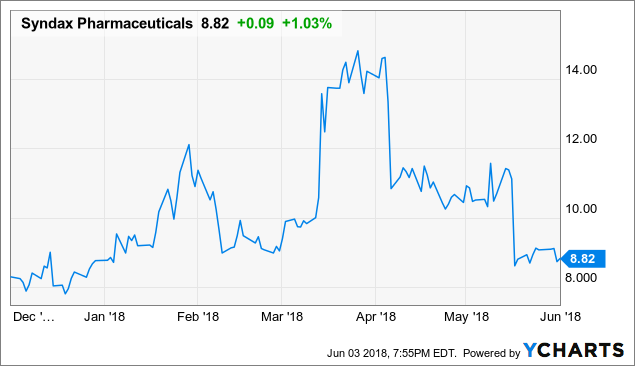 Thoughts: This one is a former ROTY Contender that saw a decent run up before pulling back- binary risk is high here, so this isn´t a likely play for very conservative investors. That said, I´m optimistic on the pivotal readout for entinostat in HR+, HER2- breast cancer based on prior data (despite disappointing combination results).
#4 Xenon Pharmaceuticals (XENE) – owns just 720K shares but also 2,868,000 Series 1 preferred shares (press release)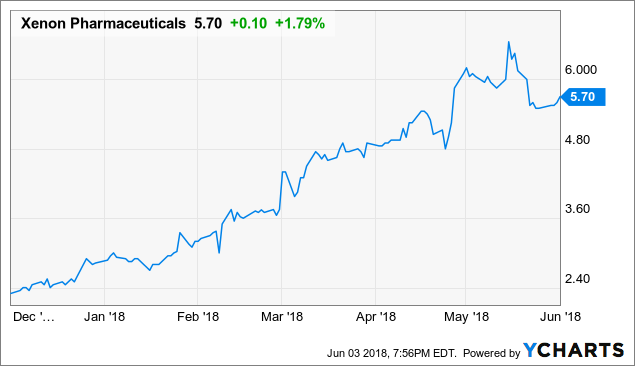 Thoughts: My recent article on this one isn´t behind the 10-day paywall yet. Their ion channel neurology pipeline consists of a few key assets with significantly high potential relative to the current valuation and indications such as EIEE7 are of particular importance given the high unmet need of these patients and advantages over ezogabine. I highly suggest readers check this one out- I wouldn´t be surprised if later in the year this one has the possibility to become an ROTY Contender and we will be following it closely in Live Chat regardless.
#5 Protagonist Therapeutics (PTGX) – owns around 7% (SEC Filing)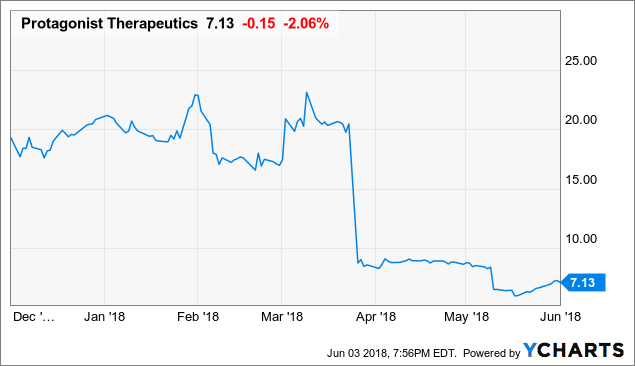 Thoughts: I did a write-up on this one about a week ago- while at first glance they are struggling after a mid-stage study for their lead asset was stopped for futility following an interim analysis by an independent Data Monitoring Committee, there´s more to the story. Institutional clustering and key executive hires are clearly green flags, deal terms for their second drug candidate with JNJ are potentially lucrative and they have other catalysts coming up.
Conclusion/Final Thoughts:
As you can see, this is by no means a comprehensive piece and just covers a few of the fund's positions that stuck out to me or to which they were heavily adding.
I hope you found the above article useful. I look forward to reading your feedback in the comments section, including which stocks mentioned above that you own or also find attractive (along with your thesis and plan if you'd like to share with the Seeking Alpha community). Another interesting question to debate is which institutional investor we will choose next!
Disclaimer: Commentary presented is not individualized investment advice. Opinions offered here are not personalized recommendations. Readers are expected to do their own due diligence or consult an investment professional if needed prior to making trades. Strategies discussed should not be mistaken for recommendations, and past performance may not be indicative of future results. Although I do my best to present factual research, I do not in any way guarantee the accuracy of the information I post. I reserve the right to make investment decisions on behalf of myself and affiliates regarding any security without notification except where it is required by law. Keep in mind that any opinion or position disclosed on this platform is subject to change at any moment as the thesis evolves. Investing in common stock can result in partial or total loss of capital. In other words, readers are expected to form their own trading plan, do their own research and take responsibility for their own actions. If they are not able or willing to do so, better to buy index funds or find a thoroughly vetted fee-only financial advisor to handle your account.
Disclosure: I am/we are long ARRY.
I wrote this article myself, and it expresses my own opinions. I am not receiving compensation for it (other than from Seeking Alpha). I have no business relationship with any company whose stock is mentioned in this article.
Editor's Note: This article covers one or more stocks trading at less than $1 per share and/or with less than a $100 million market cap. Please be aware of the risks associated with these stocks.