How wise of Millie Bobby Brown to spurn Twitter trolls | Rebecca Nicholson | Tech News
In another "well-done-everyone" triumph for the internet, 14-year-old Millie Bobby Brown has deleted her Twitter account. The Stranger Things star has been the subject of a long-running meme, #TakeDownMillieBobbyBrown, which paired her photographs with deliberately wild, incongruous and untrue stories about her having racist or homophobic encounters with fans.
After months at the forefront of the Repeal the Eighth campaign, the writer and actor Tara Flynn has spoken about her decision to take a deserved break from Twitter, pointing out that the usual response of "rise above it" or "don't let them win" increasingly seems inadequate. "That doesn't really help the person taking the abuse, because the onus is now on you to not only receive the abuse, but to be better," she told Irish TV's The Six O'Clock Show. "If you're being stoned in the village square, get out of the village square. Or at least put up an umbrella."
I know this came as an enormous disappointment to my handful of followers – my mum, several old flatmates and that man who really loathed every headline I didn't write – but I left Twitter a few months ago. Not because of hateful messages, though there were some, and not even because trying to understand memes such as #TakeDownMillieBobbyBrown is more ageing than juggling a daily sunbed habit, chronic insomnia and 13 kids under five. For me, simply, it just stopped being fun. I started to read even polite tweets in the tone of voice that accompanies the phrase: "I think you'll find …", or "I'm not being funny, but…".
We were only supposed to be on a break, but I'm happier since the split. Twitter is my Drake singing Hotline Bling; I'm wearing less and going out more, glasses of champagne out on the dancefloor. While I miss the good times – the jokes (the ones for old people, that I get), the democracy of access and the sense of community – I'm also less worried, less caught up in Twitter storms that don't matter outside Twitter and more keen to process information at a calm and measured pace, instead of being at a permanent level of Olly-Murs-in-Selfridges panic about everything.
The humour of #TakeDownMillieBobbyBrown obviously comes from the fact that Brown is neither racist nor homophobic and is seen as highly unlikely to be either of those things, but if social media can be hard for everyone, then it must be impossible to appreciate the carefully crafted irony when it's on such a huge scale, especially when you're 14.
All aboard for Ocean's 8 top-notch PR success story
One of the many delights of the release of Ocean's 8 is that its stars have been on a far-reaching promotional schedule. Sarah Paulson has perfected the art of the viral interview, being sympathetically uncool about Rihanna on Ellen and bickering with Cate Blanchett like a married couple on The Today Show.
There's something joyful about these grandly starry actors doing interviews at the same time, an oasis of charisma in a desert of shiny-toothed "I'm just really grateful for the opportunity" platitudes. It's satisfying that the film has done well at the box office, too, outperforming the other Ocean films in its opening week and, let's hope, cementing the idea in financiers' imaginations that women can lead blockbusters, and do so very profitably.
"Good acting is good acting, a fun film is a fun film," said Blanchett at the European premiere. "Isn't it bizarre that we feel surprised that a film with women in it does well? People want to go and see them." Blanchett has since announced that she'll star in Martin Crimp's When We Have Sufficiently Tortured Each Other – Twelve Variations on Samuel Richardson's Pamela at the National Theatre. Vin Diesel will surely follow suit after The Fast and the Furious franchise ends.
In many ways, the promotion has been more entertaining than the film, which is a curiously flat caper. I've found the solution, in an article on Vulture discussing its "powerful lesbian energy" and ranking the characters accordingly. Blanchett's Lou comes out on top. You're welcome.
Load, aim, fire: Gary Barlow shoots self in foot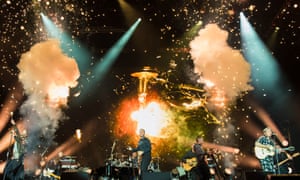 Robbie Williams flipped the middle finger to the world in Russia, which may have been the showiest Take That boo-boo of the week, but it wasn't the best. Step forward Gary Barlow, who ended a live performance at the Eden Project in Cornwall by firing a confetti cannon into the crowd.
The Eden Project is a green attraction that educates its many visitors on the environment and ecological issues. The confetti was made of plastic. That's like offering David Attenborough bottled water, pouring it into a disposable cup, chucking that cup into the ocean and then the bottle, too.
You can't blame Barlow too much for his ticker-tape to-do, though, because giving up plastic is hard. In the same week, Chepstow also "did a Barlow" and celebrated being the first town in south Wales to get plastic-free status by declaring that it was plastic-free on a banner made of plastic. Barlow quickly tweeted an apology for his cannon and promised to scrap the confetti at outdoor shows in the future. "Beyond the effect it just turns to litter," he grovelled, followed by the thumbs-down emoji. Which would have caused a lot less trouble for Williams than a finger up.
• Rebecca Nicholson is an Observer columnist