What we want to see in Macbook 2018 | Tech News
Apple has quite a lot of expectations to break through when it reveals the MacBook Pro 2018 – it has to keep fans happy, and it has to surpass the 2017 MacBook Pro.
Considering all the rumors about the cheaper 13-inch Retina MacBook and MacBook Air supposedly coming out this year, the MacBook Pro 2018 is almost guaranteed to happen – we just don't know when. It's been more than two years since the MacBook Pro was refreshed with the Touch Bar and Thunderbolt 3 – so Apple has had plenty of time to fiddle with the hardware. And, when you consider all of Apple's keyboard issues, we're expecting them to address the keyboard with the MacBook Pro 2018 when it's announced.
And, right before the WWDC 2018 keynote, benchmark results for a new 14.3-inch MacBook Pro surfaced with a 6-core Intel Coffee Lake CPU. Other than that flimsy leak, we don't have a lot of solid information about the MacBook Pro, especially since the WWDC keynote came and went with nary a mention of new hardware.
Make sure you bookmark this page to get all of the latest news and rumors about the MacBook Pro 2018 model as they come in. 
Cut to the chase
What is it? Apple's most powerful 2018 laptop
When is it out? June 2018 at the earliest?
What will it cost? Hopefully no more than current models
MacBook Pro 2018 release date
In spite of all the rumors and leaks we've seen, we don't really know when the MacBook Pro 2018 will actually come out. However, that doesn't mean we can't speculate based on previous MacBook Pro releases.
Last year, Apple gave us a surprise release of the MacBook Pro in June, immediately following the WWDC keynote. This was so surprising because of how soon it released following the MacBook Pro 2016.
The year before that, in October 2016, Apple released the first MacBook Pro to get a major redesign, which saw the debut of the Touch Bar and the T1 co-processor which powers it.
Prior to that, the MacBook Pro was receiving piecemeal updates since the last major revision of 2012, also released just after Apple's June WWDC of that year.
However, it looks like Apple is going to break away from tradition this year, as WWDC 2018 came and went without a mention of any hardware.
The next likely window is late 2018, most likely before November, just in time for the holiday shopping rush. So, we're expecting to see the MacBook Pro 2018 announced at Apple's iPhone event in September. Either way, we'll look out for new rumors and update this article as soon as the MacBook Pro 2018 release date begins to grow clearer.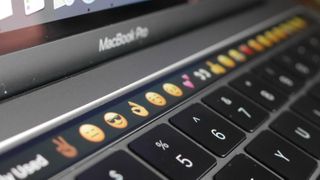 MacBook Pro 2018 price
Again, none of the rumors or leaks regarding a MacBook Pro so far have made any mention of the possible pricing, but this isn't terribly surprising. Those bits of information don't tend to drop until we get closer to an expected release date.
That said, we wouldn't expect much about the MacBook Pro price to change year over year. Apple has already hit a sweet spot of prices for its various MacBook Pro models, starting at $1,299, £1,249 or AU$1,899, for one without the Touch Bar.
From there, to purchase a Touch Bar model will increase the price to $1,799, £1,749 or AU$2,699. Of course, the 15-inch models (all with Touch Bar) pump up the price even further.
If pricing were to change this year, we'd wager that Apple would simply make room for that rumored 13-inch, entry-level MacBook by upping the hardware inside the low-end MacBook Pro and hiking up the price. Otherwise, Apple could simply wipe out the Touch Bar-free model and reserve the 'Pro' moniker for laptops with the Touch Bar.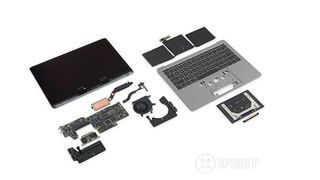 We'll look out for new rumors and update this article as soon as the MacBook Pro 2018 price begins to grow clearer.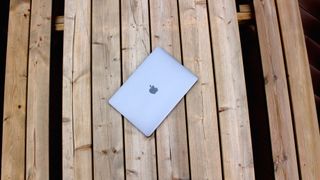 What we want to see in MacBook Pro 2018
Of course, this lack of any truly substantial information about the forthcoming 2018 MacBook Pro gives us plenty of room to draft up a wishlist.
So, here's what we want to see from a MacBook Pro for 2018.
Longer battery life
Apple's laptops have always been notable for their lasting power, but the MacBook Pro has struggled to uphold that standard in recent years. For instance, the most recent MacBook Pro model lasted just 6 hours and 37 minutes. That's a far cry from models of years previous and short of Apple's own claim of 10 hours.
So, we'd like to see the rumored performance enhancements of the next macOS coupled with Apple's rumored, self-made processor designs inside the next MacBook Pro to give its battery life the boost it desperately needs. Either way, we just hope the next MacBook Pro doesn't issues with a swelling battery.
More power across all models
With the onset of Intel processors with AMD graphics onboard, we think this is the perfect opportunity for the smaller MacBook Pro models to get a power boost. For too long have 13-inch MacBook Pro models been relegated to Intel's integrated graphics, which doesn't do much to back up that 'Pro' moniker.
In working with both AMD and Intel, it's easy to theorize that the next MacBook Pro would be able to better render video and photo work more readily with AMD Vega graphics on board. Better yet, such a processor might be able to better handle sharper screen resolutions with less of a battery draw.
As we mentioned above, there are rumors that the new MacBook Pro will come with a six-core Intel Core i7-8750H processor and up to 32GB of RAM. If those rumors are true, then our wish for a more powerful MacBook Pro 2018 will have been answered.
More ports, and a new MagSafe charger
These are admittedly 'pie in the sky' requests, but Apple's MagSafe power adaptor was beloved for a reason, and charging via USB-C is a poor replacement for it. It's hard to believe that there isn't room for such a dedicated port, and it truly can be a laptop (and person!) life saver.
Plus, the move to solely Thunderbolt 3 (USB-C) ports has left people still using SD cards in a lurch. The next MacBook Pro would do well to avoid trying to push the industry too far, too fast – especially when such rapid change may not be necessary.
If Apple were to make just these two wishes true, the MacBook Pro would be in a fantastic position.
A better keyboard
Unexpectedly, when the MacBook Pro was refreshed in 2016, we didn't hate its implementation of Apple's butterfly mechanized key switches. The keyboard was a massive step up from that of what was then the 12-inch MacBook, which would feature more tactile inputs despite having the same amount of travel. 
This was a design decision that went on to inspire the 2017 MacBook. It's not clear how the MacBook Pro's keyboard could be improved, but 'sticky' keys have been a problem for the MacBook Pro – there's even a class-action lawsuit over its keyboard.
However, there's a rumor that the Cupertino-based tech behemoth is considering implementing a virtual touch-screen keyboard with haptic feedback. Who knows if this would make it into the MacBook Pro 2018, but it would solve some of the sticky key issues.
Apple has also addressed some of the controversy surrounding its butterfly switches with a recently filed patent that describes a kind of 'guard structure' to prevent spills and crumbs from sneaking under the keys. If it's actually real, we would appreciate not having to worry about pressing the spacebar and nothing happening.
Either way, the fact that Apple didn't reveal anything at WWDC 2018 gives us hope that perhaps it'll address the keyboard whenever the Cupertino giant does decide to reveal the MacBook Pro 2018.
These are the best Macs that 2018 has to offer so far
Gabe Carey has also contributed to this report