Rating the best converged infrastructure systems | Virtual Tech
Once the data center was home only to separate compute, storage and networking infrastructures. Sure, they communicated, but the disparate systems required dedicated management and hardware to care and feed for these heterogenous platforms.
To simplify those processes and lessen the IT resources devoted to your data center, a converged infrastructure offers a unified platform designed to reduce costs, delivers enhanced visibility (and, with it, security) into a company's data center, and frees up IT staff to address other issues.
Defining converged infrastructure systems
Market research firm IDC defines converged systems as "pre-integrated, vendor-certified systems containing server hardware, disk storage systems, networking equipment, and basic element/systems management software." Because you're getting a complete platform – e.g. networking devices, storage, cabling and so on – a converged infrastructure has the potential to offer many benefits.
Several vendors offer converged infrastructure software and services that feature the components needed to run a data center infrastructure. In fact, according to IDC data, the converged systems market  reached more than $12.5 billion in 2017, a 9.4 percent increase over the previous year and the first time the market surpassed $12 billion mark in annual revenue.
Converged infrastructures can also help you cut costs and minimize risks because you don't need to have as many on-staff specialists to customize your infrastructure is. And because you're deploying one unified infrastructure, scaling as your operations grows should be simpler than extending a group of heterogeneous infrastructures.
Because you are relying on one vendor to supply your data center infrastructure you have built-in maintenance, support and updates. You also have a single point of visibility and management for your entire enterprise IT infrastructure. And should things go wrong, you have one vendor to hold accountable and instead of dealing with multiple vendors blaming each other.
Choosing a converged infrastructure provider
No IT purchasing decision is easy, but choosing a converged infrastructure provider is especially challenging. What if you could talk to other IT professionals who have made the decision already? What if you could find what they like about their decision, what they don't like and what they are still evaluating? That's premise behind the user-reviews contributed by IT Central Station members.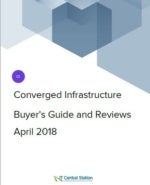 In its "Converged Infrastructure Buyer's Guide and Reviews" report, IT Central Station provides a listing of converged infrastructure vendors along with reviews from IT professionals who IT Central says it has validated via their LinkedIn profiles as users of the products to ensure their opinions are reliable and unbiased.
Top 10 converged infrastructure vendors
IT Central Station rated the top converged Infrastructure vendors based on product reviews, ratings and comparisons. The rankings for products listed are based on an aggregated score that factors in the number views the product receives, the number of times the product is compared to another product, the number of reviews on IT Central Station, the number of followers on IT Central Station and average rating based on reviews.
IT Central Station states that reviews that more than 24-months old or written by resellers are excluded from the rankings.  The 10 enterprise-level converged infrastructure solutions evaluated in this buyer's guide are the following:
FlexPod

Oracle Exalogic

Vblock

HPE ConvergedSystem

Rackspace OpenStack

Atlantis Hyperscale

Oracle Private Cloud Appliance

Oracle SuperCluster

IBM PureSystems

VxBlock System
To download the full 27-page report, follow the link below. If you're not an Insider member, sign up and receive not only this report but also gain access to our other reports, feature articles, reviews and more.