Cobian – Flat Bootstrap Landing WordPress Theme | Prosyscom Tech
Cobian super flat design and responsive bootstrap landing page and multipurpose theme. This theme is very easy to customize with great code structure, very suitable for marketing business or personal website.
This theme is built upon bootstrap framework and is fully responsive. It adapts to window resolution and looks good on all devices including ipad and iphone. See for yourself (resize your browser). If you would like to read more about bootstrap framework click here : Bootstrap Documentation
Cobian Theme works perfectly in all mobile, tablet and desktop devices thanks to the flawlessly calculated Bootstrap 3.2 , you don't meet with slipping or image disorder on any browser.
You can do everything you dreamed of very quick and simple way; you build your website with short code of template as well as shortcodes with the excellence of Visual Composer plugin.
The Cobian Theme which we created by considering the rules of search engine optimization (SEO) will provide you extra benefits at the search results.
You will receive free lifetime all updates of Cobian Theme which is checked regularly each month. Meanwhile, let us know the particles that you needed and we add them free way.
For getting you access easily to our support team with the purchase code , We are the member of an advanced system.
Cobian Theme Features
Onepage theme & Multipage theme
Unlimited color options
600+ Google Webfonts
1400+ Font Awesome and more library icons
100+ Footer Social share icons
192 flat icons – also you can add your icon images
Visual composer
Demo data included
Video, image gallery, quote, audio, status post types
Included Price Table manager
Included Portfolio manager
Included Contactform 7
Widgetize footer section
Multilanguage – included .po / .mo files
Works in Mobiles, Tablets, Smart phones and Desktop Browsers
Image Gallery with lightbox & Embed Video Gallery
Blog pages with comments
Shortcodes with Re-usable components
Google Web fonts for Optimal Loading
Based on Latest Bootstrap 3.2.0
Optimized for SEO & Usability
Embeded Google maps to show your address
W3C Valid HTML5
Latest Browser compatibility
Full Documentation & Easily Customizable
Free support*
Blog Features
Vimeo post type
Youtube post type
M4V post type
OGV post type
WEBM post type
MP3 post type
OGA post type
Soundcloud post type
Image gallery post type : slider + grid
Theme options WordPress Option Tree
Theme logo settings
Theme favicon settings
Site meta author
Site meta description
Site meta keyword
600+ Google webfont options for body element
600+ Google webfont options for heading element
Theme color options
Theme general color
header background color
header menu link color
header submenu background color
header submenu link hover color
Breadcrumb background color
Breadcrumb text color
footer background color
footer text color
footer social background color
footer social icon color
footer button background color
footer button text color
footer button background color
footer button text color
Theme sidebar options
Page layout sidebar
Home Section Parallax backgrounds
Intro background option
Footer section options
Footer about heading , description , social links
Footer contact heading , adress telephone and mail options
Footer newsletter heading , contact7form widget option
Custom css option
And more + 100 option on the theme with metabox / theme options
Follow us on social media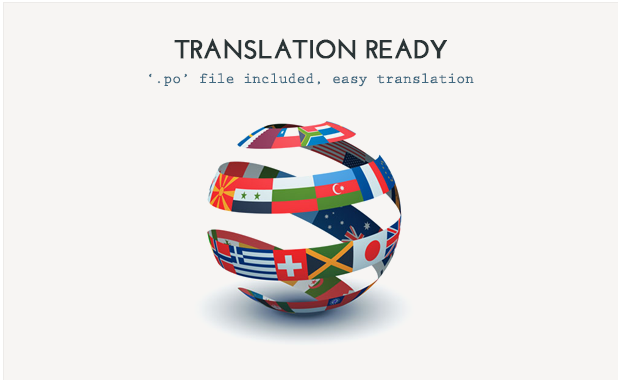 Credits
Framework by Bootstrap.
Web fonts by Google Web Fonts.


21/07/2016 - version 2.4

FIXED & ADDED
Updated     :    revslider
Fixed         :     portfolio section original popup image problem
Fixed         :     portfolio/post gallery and responsive video iframe
Added         :     portfolio image width and height options

14/06/2016 - version 2.3

FIXED & ADDED
Removed        :    twitter plugin
Updated     :    visual composer
Fixed         :     footer column problems
Fixed         :     small problems
Added         :     new widget area for footer twitter area

22/05/2016 - version 2.2

FIXED & ADDED
Added new option : Fixed or relative header type ( theme options panel)
Updated TGMPA
Fixed : single page small featured image
Fixed : archive page header title
Updated : language file

17/03/2016 - version 2.1

FIXED

Updated visual composer and shortcode plugin
Added new custom css options for responsive - Theme Options
Fixed phone number on phone devices
Fixed frontpage street line show/hide problem
The minor problems reported by our customer on the support system has been fixed

8/03/2016 - version 2.0

CHANGED & UPDATED

Small footer problems

16/02/2016 - version 1.9

Added & Fixed

Added Flat icon list in the main theme files
Fixed shortcodes "open new window" target codes
Fixed blog and pages header padding problems.
Fixed frontpage video design problem.
Fixed other minor design problems

03/02/2016 - version 1.8

Fixed & Added
Menu active, hover color problem
Added menu dropdown color options
Default page default header sub title visibility problem
Added mobile menu spacing and dimension options
Added update.css

02/02/2016 - version 1.7

Added
woocommerce.php
woocommerce-page.php
woocommerce-single.php
Woo options in the theme options panel
Woocommerce sidebar options in the sidebar tab
Woocommerce widget area

29/01/2016 - version 1.6

Fixed
Footer twitter problems. Added new options in the theme options panel
Footer color problems. Added new options and fixed all color/background problems.
Portfolio masonry menu click problem 
Updated home shortcode. Added youtube and vimeo options. After theme update don't forgot update shortcode plugin
Added preloader options in the theme options panel

25/01/2016 - version 1.5

Fixed
Dropdown menu design problems
Footer column problems

23/01/2016 - version 1.4

Fixed
Header menu color problems
Footer powered color problems

19/01/2016 - version 1.3

Added
Widgetize footer section

18/01/2016 - version 1.2

Fixed
Added multipage frontpage template type,
Fixed primary menu problem on frontpage and added a option here: appereance - theme options - general
Added multipage demodata.

17/01/2016 - version 1.1

 Fixed
 Header unlimited page logo problem
 Top menu register url problem